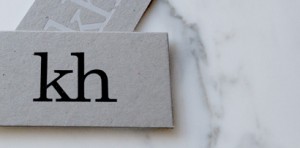 No sorry, that's kraftwerk and while we are more than a little partial to  some 70s electronica in the office, Kate , Alex and I share more modern tastes, so we are more likely to be listening to some Swedish House Mafia than the boys from Dusseldorf.
So why krafthaus? Well aside from the fact that Super Fun Happy Company Pty Ltd is already registered in Australia (I am not kidding ) we wanted to encapsulate our ability to deliver powerful design. Kraft being the German word for power, haus the word for, well, house. Powerhouse. Why German? We think they are an excellent example of a nation that prides itself on good design and an excellent model for Australia to emulate in a global economy.
While we are a young team, we are very excited to be launching our new business. Between us we already have over twenty years of experience in web and graphic design, ecommerce, marketing and print. You can read more about our individual experience here, but we are more excited about our future endeavours. The past five years, digital and social marketing have really come of age.
New technology is changing the way we consume media and tangible products, how we shop, how we interact with one another. However, the one thing that doesn't change is good communication. This can be through the written word, or through design.
At krafthaus, we have the skillsets to support good communication no matter the medium. Whether it be in traditional print media (business cards, brochures, print advertising, point-of-display, product disclosure statements, magazines), the web (websites, ecommerce, SEO , SEM or social media (content creation, content curation, social media monitoring, reputation management), we are onto the latest trends and constantly striving to innovate.
But we are more than web or graphic designers. We understand digital and print strategy and offer comprehensive analysis packages for small-to-medium enterprises which take into consideration your product, your position in the market, your competition, your objectives and your budget.
We have a strong understanding of the challenges facing businesses over the next decade, but we also see the opportunities. So speak to us about how we can help you communicate with your customers and potential customers in the digital world.
Alex Boston on Google+
Social-Media